The Nissan Skyline R34
It's been a while since we have reorganised the articles about the Nissan Skyline R34. I'd like to change them again but thought to get some input from the community first.
Whilst I was taking pictures of the customisation parts in Underground 2, I have noticed that we did something wrong - there was never a 2000 MY R34 in the NFS series. On the pictures below, you can clearly see V-Spec badges: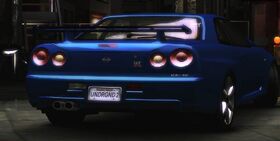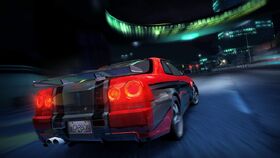 The screenshots are from Underground 2 and Carbon. Both games refer to the cars as 1999 models (the years are always mentioned after you've unlocked a car). The car from the original Underground and Most Wanted '12 (see here) are also 1999 models although I'm not sure whether they are the V-Spec I or base model. However, I also believe that the differentiation between these models is completely trivial, considering both cars aren't all that different in the first place. Why make things more complicated when they're already fine?
Why is that?
The V-Spec was basically a track-oriented version of an already track-oriented car. You could have them with an electronic limited-slip differential coupled with a more advanced 'ATTESA' 4WD system, plus a less forgiving chassis and some spoilers. Is that really enough to justify another car article for an arcade-oriented racing game series? If so, would you also include the 'SE' trim level name for the Nissan 240SX (S13) page? Or rename the Toyota Supra as 'Toyota Supra Turbo', even though it is perfectly fine as it is? There's no reason we should treat the R34 Skyline differently.
What will be changed?
Following the BMW M3 article names, I suggest including every single R34 article in a new page called Nissan Skyline GT-R (R34). All other generations would also have their internal codes included in brackets:
Is there something we can learn from this?
Aside from learning a few more facts about the V-Spec Skyline GT-R, which is quite rare in real life, we must remember not to judge a car based on its external appearance alone. Even though some games had several the R34 with clear indicator lights, they were still licensed as 1999 models (the 2000 models received such changes). That means, we should also look at how the car is called in the game, check the model years and so on. In other words, we should identify cars under more than just one criteria.
Are there more articles with this problem?
A few articles maybe, but I'll let you know if they do require some changes.