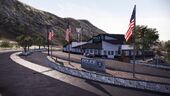 Cascade Terrace is a region in Seacrest County of Need for Speed: Hot Pursuit (2010) and Need for Speed: Hot Pursuit Remastered, located generally in the centre of the county.
Overview
Cascade Terrace is mainly a canyon area possessing a few scattered houses, along with the Arroway Observatory and an SCPD lodge. Overall three shortcuts are located near the main road; one at the SCPD building, one near the housings of Cascade Terrace and another at the Arroway Observatory.
Intersections
Gallery
Trivia
A parked Shelby GT500 Police Vehicle can be found at the SCPD lodge. It does not interact with the player in any way.
The Arroway Observatory is celebrating its 40th anniversary. It is open from 8am till 5pm during the weekdays.