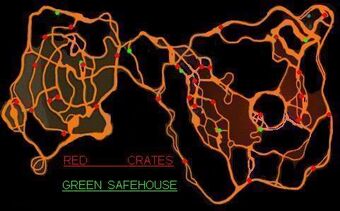 Coast City is the name of the city featured in Need for Speed Carbon: Own the City. Coast City is based off of Rockport, with the exception that Camden Beach is not there.
Landmarks
Airport
Located north of Downtown, it is the main transport hub for the city. It is also near the docks.
Inner City
Located in the East Coast area. It is a district filled with old buildings.
University
Located south west of Downtown. Much of it is centred around an auditorium. It features an underground car park.
Bridges
So named as it occupies the two main bridges that connect the west and east sides of the city.
Downtown
A modern, commercial district. Much of it is filled with skyscrapers and high rises. There is a Times Square-like area in this district.
Mountains
A rural district, dominated by the highway.
Residential
A district located near downtown. Much of it is filled with luxurious mansions.
Industrial
Dominated by a major power plant.
Quarry
A district with many off road shortcuts. It is centred on the namesake rock quarry.
Warehouses
Located west of the quarry. Dominated by warehouses.