Downtown Rockport is a borough found to the south west of Rockport. The downtown area contains many skyscrapers and commercial buildings with a small park in the eastern side. Highway 201 surrounds the borough.
There are many areas in Downtown Rockport including Diamond Valley and Fairmont Bowl. The area around the north is Century Square, which is located around a major junction. The eastern area is Little Italy, which is located close to Cascade Park.
There are three roads connecting Downtown Rockport to the other boroughs of Rockport. Two northern routes connect to Rosewood and one an east road connects to Camden Beach.
Downtown Rockport is unlocked in Need for Speed: Most Wanted after the player beats Blacklist #9 - Earl.
A road is also featured in Need for Speed: World that connects the south of the Downtown area to the Rockport Turnpike.
Agostini Heights
Agostini Heights is the eastern area of Downtown Rockport.
To the north of Agostini Heights is a hilly area with access to Downtown Rockport without requiring players to drive along Highway 201. In the centre is a large park with a few shortcuts and a Cooldown spot.
To the east is Little Italy. To the south is Bond Boulevard which leads to Riverfront Stadium and to the west is Century Square.
Century Square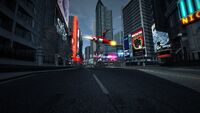 Century Square is the downtown area of Rockport.
The location consists a series of skyscrapers and other tall buildings with generally wide streets including various tight turns as well as small jumps.
Riverfront Stadium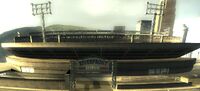 The Riverfront Stadium is a large sports facility located at the south side of Rockport. It's directly accessible through Highway 201.
On one side of the stadium, players can use a ramp to jump onto Highway 201. Riverfront Stadium was also used as a Meeting Place location in Need for Speed: World.
Rockport Valley Airport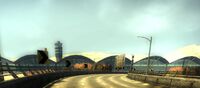 Rockport Valley Airport is an inaccessible area located next to the large loop within the southern area of Highway 201.
The airport was altered in Need for Speed: World to include a terminal entrance and building within the nearby highway.
Trivia
The overall architecture of Downtown Rockport resembles that of Manhattan, New York City. Influences can be found in various locations including the architecture of Century Square resembling those in Times Square and the architecture of the bridge seen west of Downtown Rockport resembling the Manhattan Bridge.
Some Blacklist members hail from Downtown Rockport:
Video
References
↑

Blacklist member bio videos
Community content is available under
CC-BY-SA
unless otherwise noted.