Arcane: League of Legends - The Loop
Play Sound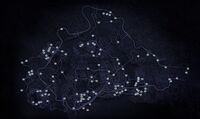 Jack Spots are a series of 123 hidden locations within the city of Fairhaven. Each spot allows the player to switch between their current vehicle and an alternate vehicle found at each location. Every vehicle has three spots.
Each Jack Spot has a different parked vehicle at its location and each cannot be rammed. Players can change their vehicle with the vehicle at the Jack Spot by driving up to it and pressing a button. They will instantly switch vehicles and will have any discovered Jack Spots added to their EasyDrive menu.
A Jack Spot can be identified by the logo of a vehicle's manufacturer hovering above the drivable vehicle. Previously discovered Jack Spot locations are highlighted as white steering wheel icons on the player's minimap (

).
Most Wanted Cars cannot be discovered by the player until the rivals that drive those vehicles are defeated. Their Jack Spots are added to the player's map once they takedown a Most Wanted rival.
A vehicle at a Jack Spot will play music from its location and cause the controller to vibrate as a player nears it. It also has its lights turned on.
Locations
Alfa Romeo 4C Concept
#1 I92 East (Defeat Most Wanted #10)
Under a railway bridge between the two lanes of I92 East near a Repair Shop
#2 Hughes Park (Defeat Most Wanted #10)
In front of the western section of the mansion
#3 Callahan Industrial (Defeat Most Wanted #10)
Between two K&N warehouses along Access Road near Shockley Road
Ariel Atom 500
#1 McClane
In a car park near the Repair Shop at the Kruger Avenue and Hutchinson Avenue intersection
#2 Fairhaven North
At the edge of a hairpin shortcut along Cameron Drive
#3 Fairhaven West
On top of the northern section of the bridge along Heflin Drive
#4 I92 East (Wii U)
Enter the Warp Pipe alongside the hanging platform at the Onslow interstate construction site
Aston Martin V12 Vantage
#1 Hughes Park
Next to the bandstand with a billboard near the Repair Shop at the north-east corner of the park
#2 Fairhaven West
At the entrance of a shortcut under the lighthouse along Somerset Road
#3 McClane
In a car park next to the Repair Shop along Chance Street to the north of the construction site
Audi A1 clubsport quattro
#1 Fairhaven South
In a carpark along Murphy Street on the southern side of I92 Junction 4
#2 Downtown
At the top of a set of stairs near the Lowery Street and Tavern Street intersection
#3 Hughes Park
In front of the southern section of the mansion
Audi R8 GT Spyder
#1 Fairhaven South
In an alleyway between the Repair Shop on Hutchinson Avenue and Murphy Street
#2 Callahan Industrial
In front of an abandoned building along Block Road on the western side of a I92 West junction
#3 Downtown
In a security gate-enclosed alleyway parallel to Traven Street as well as Whalen Street between Pearl Street and Burnett Street
BAC Mono
#1 Callahan Industrial
Along an access road to a warehouse at the northern section of Beddoe Drive
#2 McClane
In a security gate enclosed section of an old warehouse near the railway bridge along Hanna Street
#3 I92 East
Near a corner of the counter-clockwise I92 lane in the Onslow interstate construction site
#4 Hodges Airfield (Wii U)
Enter the Warp Pipe adjacent to the hanging fuselage near one of the entrances to the site
Bentley Supersports ISR Convertible
#1 McClane
Next to the Repair Shop near the Hutchinson Avenue and Bryant Road intersection
#2 Fairhaven Central
In a paved park area at the southern end of Hutchinson Avenue's dual carriageway
#3 Hughes Park
In a baseball field near the southern Vernon Rise and Clark Street intersection
BMW M3 Coupé
#1 Hughes Park
Along the northern section of the loop pedestrian walkway around the belltower
#2 Downtown
Under a billboard jump in the middle of a paved pedestrian area between Beltway South and the Foley Street car park
#3 Fairhaven West
Within a small storage warehouse in the eastern section of Gursky's Mill along Hoyt Road
Bugatti Veyron Super Sport
#1 Beltway Central (Defeat Most Wanted #3)
On the second floor of the Bloomguard Mall at the Gunderson Avenue North and Bloomguard Street intersection
#2 Callahan Industrial (Defeat Most Wanted #3)
In the Stackpoole container yard near the Gant Street Repair Shop and Shockley Road
#3 McClane (Defeat Most Wanted #3)
In a carpark adjacent to the Hanna Street and Kruger Avenue intersection
Caterham Superlight R500
#1 I92 South
Near a corner of the clockwise I92 lane in the Onslow interstate construction site
#2 Ripley's Point
In the car park behind the Repair Shop at the Jorden Street and Bishop Street intersection
#3 Fairhaven Central
Next to a pedestrian walkway bridge along the Exley Way dual carriageway
#4 Fairhaven West (Wii U)
Enter the Warp Pipe on the edge of the cliff by the lighthouse along Somerset Road
Chevrolet Camaro ZL1
#1 McClane
In a security gate enclosed shortcut behind a building near the Malone Street and Riggs Street intersection
#2 Callahan Industrial
In a security gate enclosed car park at the southern end of Callahan Street
#3 Downtown
At the end of the promenade at the Lowrey Street and Beltway South intersection
Chevrolet Corvette ZR1
#1 Hodges Airfield
In the southern of the two central hangers
#2 Ripley's Point
Next to the Repair Shop at the Burke Street and Reese Drive intersection
#3 Beltway East
Under an overpass near the Garber Street and Beltway East intersection
Dodge Challenger SRT8 392
#1 Callahan Industrial
In the car park along Callahan Street
#2 Fairhaven West
In the shipping yard near the Hallenbeck Road, Harris Road and Somerset Road intersection
#3 McClane
In the construction site near the Malone Street and Hanna Street intersection
Ford F-150 SVT Raptor
#1 Downtown
To the south-west of the Lowrey Street and Beltway South intersection
#2 Fairhaven Central
Next to the billboard jump along Johnson Road
#3 Callahan Industrial
At a corner near the Repair Shop along Block Road
Ford Focus RS500
#1 Hodges Airfield
Near the clockwise I92 lane to the east of the Repair Station
#2 Downtown
On Lowery Street
#3 Fairhaven Central
In an alleyway to the west of South Station between Murphy Street and Garber Street
Ford GT
#1 Ripley's Point
At the side of the road along Jorden Street near Burke Street
#2 Downtown
In a car park near the Brody Street and Beltway East intersection
#3 Callahan Industrial
In front of the Bog Standard warehouse along Block Road
Ford Mustang Boss 302
#1 Downtown
Next to the Repair Shop along the counter-clockwise lane of Beltway South
#2 I92 West
Behind a security gate-enclosed route around the toll booth along Connors Bridge Road
#3 I92 East
Near a corner of the clockwise I92 lane in the Onslow interstate construction site
Jaguar XKR
#1 Fairhaven Central
Along Bryant Road, next to South Station
#2 Downtown
At the top of the car park along Foley Street
#3 Ripley's Point
On the roof of the power station
Koenigsegg Agera R
#1 Fairhaven West (Defeat Most Wanted #1)
On a wooden pier over the beach along Harris Road
#2 I92 East (Defeat Most Wanted #1)
In a shortcut along the clockwise lane of I92 at the southern section of the cliffs
#3 McClane (Defeat Most Wanted #1)
At the top of South Station's car park<
Lamborghini Aventador
#1 Fairhaven South (Defeat Most Wanted #4)
In a car park along Brody Street to the west of its intersection with Murphy Street
#2 Beltway Central (Defeat Most Wanted #4)
On the railway between both lanes of Beltway North
#3 I92 East (Defeat Most Wanted #4)
Near the Repair Shop next to the I92 East and Vincennes Road intersection
Lamborghini Countach
#1 Hughes Park
To the west of the Adams Street, Johnson Road, Exley Way and Cameron Drive intersection
#2 Beltway East
To the north of the Beltway East and Vincennes Road intersection
#3 Fairhaven West
On a dirt section next to the Hallenbeck Road, Harris Road and Somerset Road intersection
Lamborghini Gallardo
#1 McClane
To the south of the Repair Shop next to the Malone Street, Kruger Avenue and I92 Junction 3 intersection
#2 Beltway West
Between two tubes to the south of the Beltway North, Bloomguard Street and Heflin Drive intersection
#3 Fairhaven West
Near the billboard jump under the I92 overpass along Hallenback Road
Lancia Delta HF Integrale
#1 McClane
In a car park next to the Malone Street, Kruger Avenue and I92 Junction 3 intersection
#2 Fairhaven West
Next to the lighthouse within the shortcut along Somerset Road
#3 Fairhaven West
On the edge of the shortcut to the south of Gursky's Mill along Hoyt Road
Land Rover Range Rover Evoque
#1 McClane
Next to the railway bridge on a corner along Hanna Street
#2 I92 East
In the shortcut between both lanes of the I92 through the cliffs
#3 Ripley's Point
Along the eastern side of the power station
Lexus LFA
#1 Downtown (Defeat Most Wanted #7)
In a car park across the FCPD Police Station along Brody Street between McElroy Street and Traven Street
#2 McClane (Defeat Most Wanted #7)
Next to the Repair Shop to the south of the Malone Street, Kruger Avenue and I92 Junction 3 intersection
#3 Callahan Industrial (Defeat Most Wanted #7)
In the shipping yard near the Hallenback Road, Harris Road and Somerset Road intersection
Marussia B2
#1 Callahan Industrial
In the Stackpoole container yard near the Gant Street Repair Shop and Shockley Road
#2 Gruber Plaza
Below the plaza between Lorenzo Avenue and Malone Street
#3 Fairhaven Central
In a shortcut along Exley Way
Maserati GT MC Stradale
#1 I92 West
Between both lanes of the I92 near a Repair Shop to the north east of Callahan Industrial
#2 Ripley's Point
In a security gate enclosed power station transformer yard parallel to Burke Street
#3 Hughes Park
Near the Clark Street and Vernon Rise intersection
McLaren MP4-12C
#1 Ripley's Point (Defeat Most Wanted #6)
In the dockyard near the Brigman Drive and Bishop Street intersection
#2 Fairhaven South (Defeat Most Wanted #6)
Behind a building at the Brody Street and Murphy Street intersection
#3 Hodges Airfield (Defeat Most Wanted #6)
At the end of the runway
Mercedes-Benz SL 65 AMG
#1 McClane (Defeat Most Wanted #8)
To the south of the Repair Shop next to the Malone Street, Kruger Avenue and I92 Junction 3 intersection
#2 Downtown (Defeat Most Wanted #8)
In the paved pedestrian area between Beltway South and the Foley Street car park
#3 Callahan Industrial (Defeat Most Wanted #8)
In the dockyard parallel to Block Road
Mercedes-Benz SLS AMG
#1 McClane
Parked to the east of the Kruger Avenue and Chance Street intersection
#2 Fairhaven North
At the edge of a hairpin shortcut along Peterson Street
#3 I92 East
Next to the Repair Shop on the clockwise lane of the I92
Mitsubishi Evolution X
#1 Ripley's Point
In a storage warehouse near the Reese Drive and Bishop Street intersection
#2 I92 North
Next to the repair station between both lanes of the I92 near Hodges Airfield
#3 Downtown
Next to the Traven Street and Whalen Street intersection
Nissan GT-R Egoist
#1 Ripley's Point
Parked adjacent to the Repair Shop at the Jorden Street and Bishop Street intersection
#2 Callahan Industrial
Near the overpass along Beddoe Drive
#3 Beltway Central
In front of the Managio at the Gunderson Avenue North, Gunderson Avenue South and Bloomguard Street intersections
Pagani Huayra
#1 Fairhaven West (Defeat Most Wanted #2)
On the docked ship near the Hallenback Road, Harris Road and Somerset Road intersection
#2 Beltway Central (Defeat Most Wanted #2)
Underneath the railway along Vincennies Road
#3 Downtown (Defeat Most Wanted #2)
On the suspended frame above the paved pedestrian area between Beltway South and the Foley Street car park
Porsche 911 Carrera S
#1 McClane
In the construction site near the Malone Street and Riggs Street intersection
#2 Burnett Place Downtown
In between the Whalen Street intersections with Burnett Street, Pearl Street and Lowery Street
#3 I92 East
In a shortcut along Vincennies Road
Porsche 911 Turbo 3.0
#1 Callahan Industrial
In the water basin near Beddoe Drive
#2 Burnett Place Downtown
Behind the Repair Shop at the Beltway North, Beltway South, Whalen Street and Connors Bridge Road
#3 Fairhaven Central
In front of 'The Isabella' near the Hutchinson Avenue, Vincennes Road and Exley Way intersection
Porsche 918 Spyder Concept
#1 Burnett Place Downtown (Defeat Most Wanted #5)
To the south of the paved pedestrian area between Beltway South and the Foley Street car park
#2 McClane (Defeat Most Wanted #5)
Parked to the east of the Kruger Avenue and Chance Street intersection
#3 Fairhaven North (Defeat Most Wanted #5)
Near the hairpin shortcut along Peterson Avenue
Porsche Panamera Turbo S
#1 Gruber Plaza
On the top section of the plaza between Malone Street and Riggs Street
#2 Hodges Airfield
Near the warehouse within the airfield
#3 Beltway Central
On top of the car park between the Gunderson Avenue South and Bloomguard Street intersection
Shelby Cobra 427
#1 Hodges Airfield (Defeat Most Wanted #9)
In the hanger behind the warehouse in the airfield
#2 Hughes Park (Defeat Most Wanted #9)
Adjacent from the south east of the park along Johnson Road
#3 Callahan Industrial (Defeat Most Wanted #9)
Underneath the railway parallel to Block Road
SRT Viper GTS
#1 Fairhaven Central
In a carpark along Murphy Street on the northern side of I92 Junction 4
#2 I92 North
On a shortcut near the Vincennes Road and I92 Junction 2 intersection
#3 Fairhaven West
At the edge of the beach along Harris Road
Subaru Cosworth Impreza
#1 Ripley's Point
In the rail yard along Brigman Drive to the west of the power station
#2 Beltway East
Next to the hoop statue to the south of the Beltway East and Vincennes Road intersection
#3 Callahan Industrial
On the firest floor of the 'Bog Standard' warehouse along Block Road
Tesla Roadster
#1 Downtown
Next to the counter-clockwise lane of Beltway South in the south-western corner of Downtown
#2 Ripley's Point
Next to the Reese Drive and Bishop Street intersection
#3 Hughes Park
Along the eastern section of the loop pedestrian walkway around the bell tower
Ultimate Speed Pack
Bugatti Veyron Grand Sport Vitesse
#1 Hughes Park
At the corner end of Standish Road heading onto Johnson Road
#2 McClane
Under the building complex construction between the I92 bridge and train tracks on Hanna Street
#3 Fairhaven West
Behind the silos near the toll booth along Connors Bridge Road
Hennessey Venom GT Spyder
#1 Fairhaven South (Defeat Most Wanted Venom)
In a loading bay along the northbound route of Beltway East
#2 Callahan Industrial (Defeat Most Wanted Venom)
Above the roof of a building across from the Repair Shop on Gant Street
#3 Hughes Park (Defeat Most Wanted Venom)
Near the northwest exit of the Mansion
Lamborghini Aventador J
#1 Fairhaven South
In a small parking lot on Brody Street
#2 Fairhaven West
In the shipping container yard facing the intersection of Hallenbeck and Harris Road
#3 Callahan Industrial
In a parking lot facing a train near Block Road
McLaren F1 LM
#1 Fairhaven Central
Next to a construction site between both roads of Beltway North dual carriageway
#2 Fairhaven West
Near the sewage pipe on the beach along Ripley's Point
#3 McClane
In a parking lot near Hanna Street heading onto Kruger Avenue
Pagani Zonda R
#1 Callahan Industrial
Parked in the K&N Workshop parking lot
#2 Beltway Central
Parked on the roof of the Bloomguard Mall, close to Gunderson Avenue North
#3 Hughes Park
Parked near the lake edge, on the side nearest to the mansion
Terminal Velocity Pack
Alfa Romeo MiTo QV
#1 Ripley's Point
On a platform at the Jorden Street, Brigman Drive and Bishop Street intersection
#2 Airport
In front of the central terminal building
#3 Hodges Airfield
On the roof of the biggest warehouse
Audi RS 3
#1 Airport
Near a tarmac path beside the central terminal building
#2 McClane
In the construction site near Malone Street, Kruger Avenue, I92 Junction 3, I92 East and I92 South
#3 Ripley's Point
In one of the two power stations
BMW 1 Series M Coupe
#1 Airport
Under a transport aircraft near the runway
#2 Callahan Industrial
Behind a gate near the intersection of Gant Street and I92 West
#3 McClane
On the roof of South Station
Ford Fiesta ST
#1 McClane
In front of a billboard jump next to the Malone Street, Kruger Avenue and I92 Junction 3 intersection
#2 Downtown
To the north-east of the Lowrey Street and Beltway South intersection
#3 Airport
Near the construction site behind the central terminal building
Porsche 918 Spyder
#1 Airport (Defeat Most Wanted 918)
On the second floor of the central terminal building
#2 McClane (Defeat Most Wanted 918)
In a parking lot near Gruber Plaza
#3 Hodges Airfield (Defeat Most Wanted 918)
On the end of a wing of an abandoned plane on the south edge of the airfield
Movie Legends Pack
Aston Martin DB5
#1 Ripley's Point
In the rail yard near the Harris Road, Brigman Drive and Reese Drive junction
#2 Fairhaven Central
On the side of Exley Way
#3 Callahan Industrial
Near a dirt path at the southern end of Callahan Street that leads to the storm drain
Aston Martin DBS
#1 Callahan Industrial
Near the shortcut to the railroad on Somerset Road
#2 McClane
At the end of the railway near the South Station
#3 I92 East
On the side of the road at the southern section of the cliffs
Dodge Charger R/T
#1 I92 East
In a shortcut along the clockwise lane of I92 at the southern section of the cliffs
#2 Fairhaven South
On the paved walkway along the curved section of Garber Street
#3 Callahan Industrial
In a small dirt area on the side of the road on Callahan Street
Pontiac Firebird Trans Am
#1 I92 East
At the end of the railway from McClane
#2 Fairhaven South
In the car park on the side of the road at the intersection of Lorenzo Avenue and Hutchinson Avenue
#3 Callahan Industrial
Coming up the right-side ramp on the 3rd floor of the Bog Standard warehouse on Block Road
Shelby GT500
#1 McClane '(Defeat Most Wanted GT500)'
In front of a building behind the car park near the Kruger Bridge on Kruger Avenue
#2 Fairhaven West (Defeat Most Wanted GT500)
Next to a Billboard jump on the docked ship
#3 Beltway Central (Defeat Most Wanted GT500)
In the alleyway access to the parking structure on Gunderson Avenue South
Need for Speed Heroes Pack
BMW M3 GTR
#1 Callahan Industrial (Defeat Most Wanted M3 GTR)
On the roof of the K&N Workshop
#2 Hughes Park (Defeat Most Wanted M3 GTR)
Next to a dirt path on the junction of Standish Road and Vernon Rise
#3 I92 South (Defeat Most Wanted M3 GTR)
On a dirt path along I92 South
Lamborghini Diablo SV
#1 Callahan Industrial
Across from the Stackpoole yard near the intersection of Gant Street and I92 West
#2 Beltway Central
On the side of the road near a warehouse under construction on Gunderson Avenue North
#3 I92 East
Between two lanes of I92 East
Nissan 350Z
#1 Beltway Central
Near a building along Gunderson Avenue North
#2 McClane
In a parking lot near a repair shop on Kruger Avenue
#3 I92 East
On the side of the road near a billboard jump along the southern section of the cliffs
Nissan Skyline GT-R (R34)
#1 Hodges Airfield
In a hangar on the east side of the airfield
#2 I92 East
Under a railway bridge near a repair shop on one side of the road
#3 Beltway East
Next to a building by the Bloomguard Street, Garber Street and Beltway East intersection
Porsche 911 GT2
#1 McClane
Near a railway tunnel in the construction site, close to the intersection between Kruger Avenue, Malone Street and Junction 3 of I92
#2 Downtown
In front of the FCPD station on McElroy Street
#3 Ripley's Point
In a warehouse between Brigman Drive and the rail yard
Maps