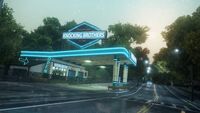 Repair Shops
are drive throughs scattered all over the city of Fairhaven with 21 locations in total (22 with the
Terminal Velocity Pack
DLC).
They are easily distinguished from other buildings by their giant signs with blue lights and distinct building design made for drive-throughs. They will appear as a green open-end wrench on the mini-map. The repair shops are all owned by a fictional company called "Knocking Brothers".
These repair shops combine the ability to repair, repaint and refill nitrous of the player's car once they have driven though it. This allows any visual damage and burst tyres to be repaired.
Passing through a Repair Shop during the cooldown phase of a pursuit will reduce the player's heat by a single level per visit.
It only serves to repair damage and refill nitrous on a player's car in multiplayer as repainting the vehicle is only available through unlockable paint schemes.
Locations
The Beltway
#1 Bloomguard Street
Managio & Gunderson Avenue South intersection
Callahan Industrial
#2 Block Road
Near the Ford F-150 SVT Raptor Jack Spot
#3 Gant Street
Near the I-92 junction
Downtown
#4 Beltway South
?
#5 Beltway South
?
Fairhaven
#6 Vincennies Road
Close to the rail terminal
Hughes Park
#7 Johnson Street
Near Clark Street
#8 Clark Street
?
#9 Clark Street
Adams Street & Peterson Street intersection
Interstate 92
#10 I92 East
Near the Mercedes-Benz SLS AMG Jack Spot
#11 I92 East
Near the Lamborghini Aventador Jack Spot; before the junction
#12 I92 North
Near the Mitsubishi Lancer Evolution X Jack Spot; close to the Agera R Most Wanted race checkpoint
#13 I92 West
?
McClane
#14 Hutchinson Avenue
Near the Bentley Supersports ISR Jack Spot
#15 Kruger Avenue
Hutchinson Avenue & Garber Street intersection
#16 Kruger Avenue
?
#17 Chance Street
Close to Kruger Avenue; near the Aston Martin V12 Vantage Jack Spot; near Hanna Street
#18 Malone Street
Near the Lexus LFA Jack Spot; near the I-92 junction
Ripley's Point
#19 Brigman Drive
Located with 2 parked cars in
#20 Jorden Street
Near Bishop Street; close to a Jack Spot
#21 Burke Street
Near an intersection; close to the Chevrolet Corvette ZR1 Jack Spot
Airport (DLC)
#22 Central Terminal Departures
Near the SRCU FAST Construction site
Trivia
The fictional company - Knocking Brothers - displays that it was established in 1948.
The Repair Shops are a combination of the Gas Station, Body Shop and Paint Shop drive throughs featured in Criterion Games' previous title - Burnout Paradise.
Community content is available under
CC-BY-SA
unless otherwise noted.