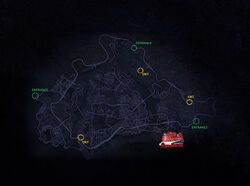 Warp Pipes
are a series of Easter Eggs exclusive to the Nintendo Wii U release of
Need for Speed: Most Wanted (2012)
. They are large, green pipes based on those seen in the 
Super Mario Bros.
franchise.
A secret location can be entered by the player upon parking their vehicle on top of a pipe and clicking the left stick down of their controller.
Each pipe is a gateway to a different secret garage that each contains an extra Jack Spot for either the Ariel Atom 500, BAC Mono or Caterham Superlight R500 as well as a custom Mario-themed livery for that vehicle.
Each garage has at least three exits with each allowing the player to exit to a different location within Fairhaven City.
I92 East
#1-1 Ariel Atom (Mario-themed livery)
Warp Pipe can be found alongside the hanging platform at the Onslow interstate construction site.
Callahan Industrial
#2-1 Caterham R500 Superlight (Princess Peach-themed livery)
Warp Pipe can be found on the edge of the cliff by the lighthouse along Somerset Road.
Hodges Airfield
#3-1 BAC Mono (Yoshi-themed livery)
Warp Pipe can be found adjacent to the hanging fuselage near one of the entrances to the site.
Trivia
The Paradise City seal from Burnout Paradise is shown stamped on a delivery crate in the Level 2-1 garage.
Community content is available under
CC-BY-SA
unless otherwise noted.