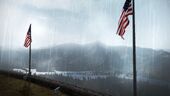 Fairview Road is a highway passing through Eagle Crest in Seacrest County in Need for Speed: Hot Pursuit (2010) and Need for Speed: Hot Pursuit Remastered.
Overview
Fairview Road features plenty of landmarks such as a large logging, a town with a big hotel and restaurant. Both the logging and restaurant are located on the remote roads, which can be used as shortcuts. Another notable sight is a lookout at Sperry Lake. Like Cascade Terrace, an SCPD lodge can be found at the highway.
Intersections
Racer Events
Hunted is an event in the Super Sports Pack. The player uses a Gumpert Apollo S as a Racer. It has 3 racers and 2 Bugatti Veyron SS Interceptors from the start. It is a 19.1 kilometer race starting from Fairview Road and ends in Bear Hollow. It is the reverse version of Tough Torque.
Gallery