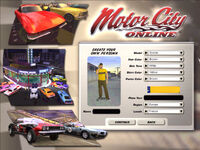 Motor City Online offered the player a personalised and customisable persona. Their persona would live, eat, breathe, and represent their overall experience in Motor City.
When creating an account, the player could choose from over 30 models to customise with items such as clothes, accessories, skin tone, hair colour, and colour scheme.
The character could be customised long after initially being created by selecting the "Edit Persona" section of "My Profile".
Each player was only allowed a single persona per shard at a time.
Persona Models
Beatnik
Beatnik Chick
Beefy GI Guy
Beefcake
Bell Bottom Bopper
Big Bad Baldy
Cheerleader
Disco Boy
Fife

Go-Go Gal
Greaser
Greaser Gal
Halter Top Bopper
Hard Rock Rebel 
Hippie
Hippie Chick
Hoola-Hooper
Jockette

Junior Greaser
Mademoiselle Oo La La
Mama Funk
Mohawk Punker
Mr. Country Club
Mr. Mullet
Ms. Mechanic
Muttonchop
Party Girl

Pretty Boy
Rocker Chick
Runty Rebel
Sailor Girl
Street Fighter
Townie