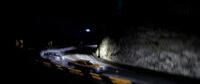 A Canyon Duel is an event type seen in Need for Speed: Carbon.
Canyon Duels take place along the canyon routes surrounding Palmont City. The first phase of the event starts with one player tailing their opponent at the start of the canyon route. That player will have to stay behind their opponent throughout the event in order to earn points, with more points being awarded the closer they are to their opponent without colliding with their vehicle. The chasing player can automatically win if they pass their opponent and stay ahead for 10 seconds.
Both participants begin again at the beginning upon completing the first phase. The opponent will tail the now-hunted player in the second phase. The hunted player loses points as their opponent stays in close range of their vehicle, but can gain some if their opponent collides with their vehicle. The hunted player will lose the event if their opponent passes and stays ahead of them for 10 seconds.
The chasing player wins if they have more points than their opponent or pull away from them. The chasing player can also lose if they crash through a yellow barrier and fall off the canyon edge. They will also lose if they are unable to keep up with their opponent.
Career Events
Events
Notes
Ramming an opponent will deduct 5,000 points from the chasing player in the first phase.

In turn, being rammed by an opponent in the second phase will add 5,000 points for the hunted player.

Nitrous and Speedbreakers are unavailable during Canyon Duels.
Players that lose all of their points during the second stage of a duel will automatically lose the event.
It is possible for the chasing player to knock their opponent off of the canyon route and immediately win.
Community content is available under
CC-BY-SA
unless otherwise noted.