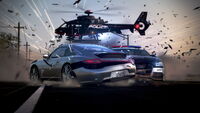 Bounty in Need for Speed: Hot Pursuit (2010) is a form of progression used towards the player's Wanted Level as a racer or their SCPD Cop Rank as an SCPD officer.
Earning bounty will unlock additional performance tiers in the career as well as cars for use across the career and in online multiplayer.
Additional bounty can be earned by completing Milestones, which reward bounty upon reach various stages in the completion of each milestone. The milestones offered include both faction specific and general gameplay goals.
The amount earned depends on a player's driving ability and their finishing position for events. A player's bounty for either faction can be increased across both the single player career and online multiplayer.
Bounty
Bounty can be earned through multitude actions:
Damaging a player vehicle
Performing a Takedown
Busting a racer
Gaining racer lead positions
Performing close calls
Drifting
Reaching the top speed of a vehicle
Evading EMPs, Helicopters, Spike Strips or Roadblocks
Successfully activating Turbo with no collisions
Taking shortcuts
Driving in the oncoming lane
Completing events

First position - 8,000 to 12,000 bounty
Second position - 5,000 to 7,000 bounty
Third position - 1,000 to 4,500 bounty

Beating Autolog recommendations
Community content is available under
CC-BY-SA
unless otherwise noted.