Raise a Floppa - The Loop
Play Sound

Need for Speed: Hot Pursuit (2010) is an action arcade racing game developed by IronMonkey released on iOS, Android, and Windows Phone. Technically it is very different to other releases. It is the third installment of the Need for Speed series to be released on smartphones.
Gameplay
Like seen in other releases of the game, players progress in career mode by collecting bounty and racing in Seacrest County. The more bounty the player has, the higher their level.
The game can be played by both sides of the law, but is limited to singleplayer and local multiplayer. Autolog functionality was added in a later update. Visual damage is absent in this release.
Players can also choose between automatic and manual transmission. Vehicles in Hot Pursuit mostly tend to drift in corners. For both cops and racers, nitrous is available to boost speed up.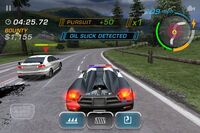 Controls
Players can steer cars by tilting their iPhone or iPad to the left or to the right, which is reminiscent of using a steering wheel. Braking is possible by tapping on the left side of the screen. There's an option to enable auto-acceleration.
Game Modes
Career Mode - The career mode is split into four acts, with each containing six events. These events feature the race modes seen below. By levelling up, more cars will be unlocked.
Race Modes (Racer)
Eliminator - The last positioned racer to drive through a checkpoint will be instantly eliminated.
Hot Pursuit - Racers have to finish the race while being chased by cops.
Road Race - Standard races without police presence.

Speed Trap

- Players have to pass through checkpoints as fast as possible to get the highest amount of bounty.
Race Modes (Cops)
Interceptor - Cops are tasked with arresting one racer within a certain amount of time.
Power Struggle - Similar to Road Races, except only cops take part in such races. Weapons can be used.
Rapid Response - Players have to drive through every checkpoint before time expires.
Tough Justice - The counterpart of Hot Pursuit Mode. Players are ordered to arrest as many racers as possible to get the most bounty.
Weapons
Cops are allowed to use weapons in order to bust racers, which will recharge after usage. Like the PC, PlayStation 3, and Xbox 360 releases of Hot Pursuit, police radio chatter can be heard when deploying weapons.
Racers have a unique arsenal of their own.
Car List
Trailers