Need for Speed: Hot Pursuit 2
is the sixth title in the
Need for Speed series
. It is the sequel to
Need for Speed III: Hot Pursuit
and also has a large focus on pursuits.
EA Black Box developed the PlayStation 2 release of Need for Speed: Hot Pursuit 2 whilst EA Seattle developed the PC, Xbox, and Gamecube releases. The PlayStation 2 release offers significantly more game features compared to other releases.
The game was first released on October 1st, 2002 for the PlayStation 2, Xbox and Gamecube with an October 21, 2002 release for PC. In France, the game was marketed as Need for Speed: Poursuite Infernale 2.
A reboot to both the original Hot Pursuit and Hot Pursuit 2 was made by Criterion Games entitled - Need for Speed: Hot Pursuit (2010).
Gameplay
Unlike Need for Speed: Porsche Unleashed, the gameplay consists of arcade-style races and police pursuits, featuring tactics that include roadblocks, use of spike strips, and a helicopter that now has the ability to drop explosive barrels against racers, and in the PlayStation 2 release, it can also drop spike strips and missiles. Similar to the original Hot Pursuit, players can be busted after being caught three times in EA Black Box's release, although being caught one single time in EA Seattle's release leads to being busted.
The diverse customisation options seen in the last two installments has been dropped as well as special weather effects and the day-night circle. Now players can only change the car paint similar to the original Need for Speed III: Hot Pursuit.
With the exception of the last two Ultimate Racer and Championship events of the PlayStation 2 release, it is the first game in the series to not include cockpit camera.
Showcase Mode was not made available in Need for Speed: Hot Pursuit 2, although players are offered a narrated description of each vehicle.
Career Events
Events in Need for Speed: Hot Pursuit 2 are sorted into two distinct Event Trees that include various types of competitions, in which players can participate to earn points, and unlock vehicles or courses.
Single Race
Race Modes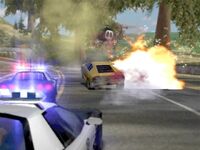 Car List
Need for Speed: Hot Pursuit 2
car list consists of various European sports and supercars, alongside some American, and a pair of Australian cars. Bonus editions, as well as police variants of some vehicles are also featured.
Courses
Courses are located in differing environments based on North American, Polynesian, and Mediterranean themes. Each environment features one Sprint course and two Circuit courses, and they can have their event parameters altered before a race.
Alpine
Mediterranean
Tropical
Woodland
Desert (PlayStation 2 Exclusive)
Soundtrack
Although
Need for Speed: High Stakes
included a few licensed songs,
Need for Speed: Hot Pursuit 2
is the first game in the series to make extensive use of licensed music, and to feature EA Trax. Instrumental remixes of the songs can be heard during pursuits.
Special Releases
Need for Speed: GT
The PC release of the EA Seattle's release of Need for Speed: Hot Pursuit 2 was reformatted into an arcade title by Global VR and was renamed as "Need for Speed: GT."
Title Differences
Trivia
Trailers
Community content is available under
CC-BY-SA
unless otherwise noted.