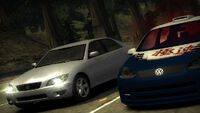 Circuit is a player versus player game mode along an enclosed 2-3 lap course.
The available selection of Circuit courses depends on the player's current rank on the Blacklist. A higher rank will unlock more circuit courses.
The starting grid of all circuit races consists of three rival racers and the player. All participants have a chance to earn a 'Perfect Start' during the race countdown by hitting the optimal rev range before the countdown is completed.
The awarded amount of Bounty and cash is dependent on the player's rank on the Blacklist, their finishing position and if the Rockport Police Department was involved at any point during the event.
Events
Type
Name
Start Location
Length
Bay Bridge
Masterson Harbour, Camden
7.8 mi
12.6 km
Boundary
Downtown, Rosewood
6.5 mi
10.4 km
Camden Tunnel
Masterson Harbour, Camden
7.9 mi
12.7 km
Campus Interchange
Heritage Heights, Rosewood
13.9 mi
22.3 km
Campus Way
Rosewood College Campus, Rosewood
5.7 mi
9.1 km
Century Square
Fairmont Bowl, Downtown Rockport
4.1 mi
6.6 km
Circle Rose
Downtown, Rosewood
6.8 mi
10.9 km
City Perimeter
Downtown, Downtown Rockport
9.9 mi
15.9 km
Clubhouse
Forest Green Country Club, Rosewood
10.4 mi
16.7 km
Country Club
Heritage Heights, Rosewood
13.9 mi
22.3 km
Diamond
Rosewood College Campus, Rosewood
8.9 mi
14.3 km
Dunwich Bay
Gray Point, Camden
7 mi
11.3 km
East Park
Agostini Heights, Downtown Rockport
8.5 mi
13.6 km
Gray Point
Gray Point, Camden
7.1 mi
11.4 km
Hastings
Agostini Heights, Downtown Rockport
17.9 mi
28.8 km
Heritage & Omega
Gray Point, Camden
7.1 mi
11.4 km
Heritage Heights
Highlander Stadium, Rosewood
7.5 mi
12 km
Highlands
Heritage Heights, Rosewood
4.3 mi
6.9 km
Hillcrest Boundary
Highlander Stadium, Rosewood
9.3 mi
14.9 km
Hospital Switchback
Downtown, Rosewood
7 mi
11.3 km
Ironhorse
Agostini Heights, Downtown Rockport
8.4 mi
13.5 km
Ironwood Estates
Heritage Heights, Rosewood
4.2 mi
6.8 km
Little Italy
Rockport Valley Airport, Downtown Rockport
5 mi
8.1 km
Oil Refinery
Camden Beach, Camden
8.5 mi
13.6 km
Omega
Downtown, Rosewood
6.5 mi
10.4 km
Omega & Industry
Gray Point, Camden
8.5 mi
13.7 km
Petersburg
Rosewood College Campus, Rosewood
5.7 mi
9.1 km
Switchback
Rosewood College Campus, Rosewood
8.9 mi
14.3 km
Warrent Road
Fairmont Bowl, Downtown Rockport
4.1 mi
6.6 km
Waterfront
Cascade Industrial Park, Camden
6.1 mi
9.8 km