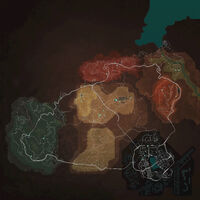 Jumps
in
Need for Speed: Payback
are
activities
to beat a series of jump distance targets that can be found across
Fortune Valley
.
They are highlighted by an icon of an arrow leading along a ramp. Nearby jumps will be shown on the player's mini-map, but its location isn't recorded on their map unless they pass through a jump's starting point.
Driving through a jump start point will initiate the player's attempt to beat that jump's target. Beating each of the three star rating targets will reward the player with bank and reputation. Beating all three star rating targets will allow the player to earn additional bank and reputation by beating their personal best distance for a jump.
Each star rating target has a different reward for the player upon beating it:
Owning the High Roller Pack will add an extra 5% bank and reputation reward to all target rewards.
Earning a single star rating for all 30 jumps will unlock the "Aces High" award.
There are a total of 30 jumps across Fortune Valley; 4 in Mount Providence, 14 in Liberty Desert, 5 in Silver Rock, and 7 in Silver Canyon.
Jumps
Image
Map
Location
8 Lives Left
Liberty Desert
70 Yards
(77 Metres)
100 Yards
(109 Metres)
130 Yards
(142 Metres)
A Little Bump
Silver Canyon
70 Yards
(77 Metres)
90 Yards
(98 Metres)
120 Yards
(131 Metres)
Air Ball
Liberty Desert
85 Yards
(93 Metres)
92 Yards
(101 Metres)
100 Yards
(109 Metres)
Air Crazy
Liberty Desert
50 Yards
(55 Metres)
75 Yards
(82 Metres)
90 Yards
(98 Metres)
Bolt From The Blue
Silver Rock
50 Yards
(55 Metres)
110 Yards
(120 Metres)
150 Yards
(164 Metres)
Breath Of Fresh Air
Mount Providence
55 Yards
(60 Metres)
70 Yards
(77 Metres)
90 Yards
(98 Metres)
Check the Engine!!
Liberty Desert
70 Yards
(77 Metres)
110 Yards
(120 Metres)
135 Yards
(148 Metres)
Defying Gravity
Silver Rock
80 Yards
(87 Metres)
105 Yards
(115 Metres)
140 Yards
(153 Metres)
Destination Unknown
Mount Providence
80 Yards
(87 Metres)
120 Yards
(131 Metres)
150 Yards
(164 Metres)
Don't Hate
Liberty Desert
70 Yards
(77 Metres)
90 Yards
(98 Metres)
130 Yards
(142 Metres)
Eject Button
Liberty Desert
78 Yards
(85 Metres)
130 Yards
(142 Metres)
180 Yards
(197 Metres)
Garagesale
Liberty Desert
70 Yards
(77 Metres)
120 Yards
(131 Metres)
160 Yards
(175 Metres)
High Flow
Silver Canyon
70 Yards
(77 Metres)
110 Yards
(120 Metres)
130 Yards
(142 Metres)
I Can See The Mountains
Mount Providence
55 Yards
(60 Metres)
80 Yards
(87 Metres)
105 Yards
(115 Metres)
I Phone Home!
Silver Canyon
80 Yards
(87 Metres)
110 Yards
(120 Metres)
130 Yards
(142 Metres)
In The Distance
Liberty Desert
65 Yards
(71 Metres)
95 Yards
(104 Metres)
125 Yards
(137 Metres)
Into Orbit
Liberty Desert
55 Yards
(60 Metres)
70 Yards
(77 Metres)
85 Yards
(93 Metres)
Jump Around
Silver Canyon
65 Yards
(71 Metres)
105 Yards
(115 Metres)
130 Yards
(142 Metres)
Jump In! No Time To Explain!
Mount Providence
85 Yards
(93 Metres)
105 Yards
(115 Metres)
135 Yards
(148 Metres)
Like A Boss
Silver Rock
55 Yards
(60 Metres)
70 Yards
(77 Metres)
85 Yards
(93 Metres)
Look No Hands
Liberty Desert
41 Yards
(45 Metres)
50 Yards
(55 Metres)
60 Yards
(66 Metres)
No Idea What I'm Doing
Liberty Desert
50 Yards
(55 Metres)
75 Yards
(82 Metres)
95 Yards
(104 Metres)
One Way Ticket
Silver Canyon
85 Yards
(93 Metres)
105 Yards
(115 Metres)
130 Yards
(142 Metres)
One With The Wind
Liberty Desert
50 Yards
(55 Metres)
70 Yards
(77 Metres)
85 Yards
(93 Metres)
Seven Heaven
Silver Rock
70 Yards
(77 Metres)
100 Yards
(109 Metres)
130 Yards
(142 Metres)
Son, Get Down!
Liberty Desert
70 Yards
(77 Metres)
90 Yards
(98 Metres)
110 Yards
(120 Metres)
That Escalated Quickly!
Silver Rock
50 Yards
(55 Metres)
65 Yards
(71 Metres)
85 Yards
(93 Metres)
The Abandoned Mine
Silver Canyon
65 Yards
(71 Metres)
85 Yards
(93 Metres)
115 Yards
(126 Metres)
There Goes Gravity
Liberty Desert
80 Yards
(87 Metres)
105 Yards
(115 Metres)
135 Yards
(148 Metres)
Twilight Zone
Silver Canyon
90 Yards
(98 Metres)
120 Yards
(131 Metres)
160 Yards
(175 Metres)