Fire Emblem Warriors: Three Hopes - The Loop
Play Sound
Upgrades is a feature in EA Canada's PC release of Need for Speed: Porsche Unleashed. Upgrades in the form of parts can be unlocked, purchased, and installed in Evolution mode, although the player's customised vehicles can also be used for Quick Race.
A purchased car can be fitted with an entire set of stock parts to deliver factory-spec performance seen in the showcase, or can have their fittings replaced with different components for cosmetic purposes or improved performance.
Racing class cars are not offered with a wide selection of parts as their stock parts are racing class. However, racing class tyres can be switched from racing slicks to rain tyres.
Parts appreciate over time, and parts previously unavailable parts may be made available as time progresses.
Garage
Parts Menu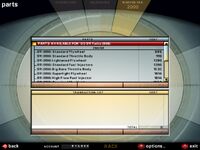 If an owner wants to enhance the performance of their cars, aftermarket parts are available and accessible from the parts menu.
Each part has a description that outlines its functions or benefits, and for any category, different tiers are offered at varying cost, performance, and durability. The parts menu also allows for selling spare parts.

Car Setup Menu
Players can install parts in the Car Setup Menu, which displays their inventory.
Installing an upgrade part will remove a stock part and place it into the player's inventory as spare parts, with the exception of add-on parts, which are absent from a stock car, but can be outfitted with forced induction or sway bars. These spare parts can be held for later use or sold for cash.
Tuning
Players can alter various options of a car's setup, such as shocks (ride height, stiffness, travel), steering, brake balance, downforce, tyre pressure, and gear ratios.
Shocks – Ride Height

Decreasing it lowers a car's centre of gravity, improving handling, although lowering too far can cause it to bottom out over rough terrain.

Shocks – Stiffness

Increasing it reduces body roll, but may cause reduction in a car's traction on bumpy terrain.

Shocks – Travel

Increasing it improves the car's ability to handle rough terrain, whilst decreasing it reduces roll on high-speed turns.

Steering – Toe In

Increases the sensitivity of a car's steering during cornering, but may cause the back end to break loose sooner.

Brake Balance

Tuning to the front creates oversteering by transferring weight to the front during braking, whilst increasing in the rear results in understeering.

Downforce

Increasing it will improve handling at the cost of reducing top speed. It is adjustable for both front and back ends.

Tyre Pressure

Decreasing it can improve grip at the expense of durability, whilst increasing it will reduce grip but may improve the ride quality over rough terrain. Varying the pressures between front and rear can change the balance of the car.

Gear Ratio (only available for Race Class cars)

Fine tuning of the car's gear ratios.
Repair
If a vehicle is damaged after an event, players have the option of repairing individual car parts or an overall car repair depending on their available cash.
Paint Shop
Players can alter their vehicle's body paint, having the option to choose from a set of factory colours or a custom colour, as well as applying trim packages and race numbers.
Parts
Parts are specific to each Porsche line up of cars, with a few exceptions:
Carbs, Air Intake, Flywheel, Exhaust, Brakes, Suspension, Shocks, and Sway Bars from the 356 lineup are shared with the 356 A and 356 B model range.
Certain parts also alter the a car's bodywork:
356
356 A
356 B
911
911 (930)
914
944
GT1
935
550 A
911 (964)
911 (993)
911 (996)
Boxster
Trivia
Cars made available as downloadable content can't be upgraded with upgrade parts.