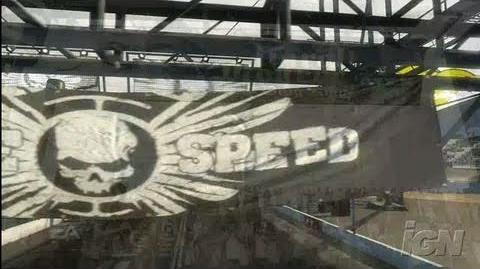 Race Day Events in Need for Speed: ProStreet are multiple racing events hosted by one of seven legitimate racing organisations with some organisations specialising in specific event types.
Each race day event is made up of multiple events of up to a total of eight for a given race day. Players are allowed to bring a single vehicle for each event type; grip, drag, speed, and drift, as well as a single additional vehicle for any featured event type.
The player will have to reach a certain amount of total points for a race day in order to win the event. Acquiring additional points beyond the win criteria will allow them to dominate the event or even surpass the record holder's score.
Players will unlock more race days hosted by differing organisations across a greater selection of locations as they progress through the career.
Challenge race day events will provide the player with a selection of vehicles tailored to the events offered by the organisation. The player will not be able to complete the race day if they total all of their provided vehicles.
Career
Event
Location
Events
 
 D-Day
1
 - 
 - 
  - 
 
 Challenge: Nevada
4
 - 
19,220
24,110 (Bradley Hunter)
 
 Willow Springs
4
11,400
22,800
28,640 (Rudy Chen)
 
 Chicago Airfield II
6
18,000
36,000
44,950 (Gavin May)
 
 Portland International Raceway
4
12,000
24,000
30,130 (Bradley Hunter)
 
 Challenge: Texas
6
 - 
28,500
47,050 (Ray Krieger)
 
 Chicago Airfield
5
14,300
28,500
35,810 (Joe Tackett)
 
 Portland International Raceway II
4
12,000
24,000
30,070 (Paulo Cruz)
 
 Willow Springs II
5
15,000
30,000
37,400 (Rudy Chen)
 
 Nevada Highway II
6
18,900
37,800
47,420 (Yoshi Suzuki)
 
 Showdown: Chicago
5
 - 
31,500
39,450 (JP Laurent)
 
 Challenge: Autopolis
5
 - 
37,800
47,390 (Tony Manilla)
 
 Tokyo Dockyard
5
15,000
30,000
37,690 (Frank Book)
 
 Ebisu
6
18,000
36,000
44,860 (JP Laurent)
 
 Mondello Park
6
18,900
30,000
37,690 (Gavin May)
 
 Mondello Park III
6
19,800
39,600
49,420 (Ray Krieger)
 
 Challenge: Ebisu
7
 - 
39,600
57,630 (Nate Denver)
 
 Autobahnring
6
18,000
36,000
45,040 (Takeshi Sato)
 
 Autopolis II
4
12,000
24,000
29,970 (Tony Manilla)
 
 Tokyo Dockyard II
6
18,900
37,800
47,440 (Tony Manilla)
 
 Mondello Park II
4
12,000
24,000
31,490 (Gavin May)
 
 Autobahnring II
6
19,800
39,600
49,590 (JP Laurent)
 
 Showdown II: Autopolis
5
 - 
33,000
41,010 (Vinnie Gaul)
 
 Challenge: Autobahnring
6
 - 
37,800
47,230 (Carlos Galliano)
 
 Willow Springs
6
18,900
37,800
47,430 (Vinnie Gaul)
 
 Tokyo Dockyard
5
18,900
37,800
41,270 (Henrik Dehn)
 
 Autobahnring II
7
23,100
46,220
57,660 (Carlos Galliano)
 
 Portland International Raceway
6
19,800
39,600
49,670 (Craig Wright)
 
 Nevada Highway III
7
24,100
48,300
60,350 (Nate Denver)
 
 Infineon
4
12,600
25,200
31,690 (Craig Wright)
 
 Mondello Park
4
13,200
26,400
32,760 (Henrik Dehn)
 
 Chicago Airfield
6
19,800
39,600
49,630 (Ivan Tarkovsky)
 
 Ebisu
5
16,500
33,000
41,180 (Carlos Galliano)
 
 Nevada Highway
7
24,100
48,300
60,160 (Paul Trask)
 
 Infineon II
6
20,700
41,400
51,780 (Henrik Dehn)
 
 Texas World Speedway
7
20,700
41,400
51,780 (Henrik Dehn)
 
 Showdown III: Autobahnring
6
 - 
41,400
51,590 (Paul Trask)
 
 Portland International Raceway
6
18,900
37,800
47,140 (Frank Book)
 
 Chicago Airfield
6
19,800
39,600
49,440 (Craig Wright)
 
 Infineon
6
20,700
41,400
51,570 (Karol Monroe)
 
 Drag King Challenge: Infineon II
3
 - 
 - 
24,610 (Karol Monroe)
 
 Ebisu
6
18,900
37,800
47,040 (Tony Manilla)
 
 Tokyo Dockyard
6
19,800
39,600
49,310 (Vinnie Gaul)
 
 Autopolis
6
20,700
41,400
51,600 (Aki Kimura)
 
 Drift King Challenge: Autopolis II
3
 - 
 - 
24,940 (Aki Kimura)
 
 Mondello Park
6
18,900
37,800
47,260 (Gavin May)
 
 Texas World Speedway
6
19,800
39,600
49,570 (Henrik Dehn)
 
 Willow Springs
6
20,700
41,400
51,650 (Ray Krieger)
 
 Grip King Challenge: Willow Springs II
3
 - 
 - 
24,520 (Ray Krieger)
 
 Autobahnring
6
18,900
37,800
47,150 (JP Laurent)
 
 Ebisu
6
19,800
39,600
49,570 (Carlos Galliano)
 
 Nevada Highway
6
20,700
41,400
51,840 (Nate Denver)
 
 Speed King Challenge: Nevada Highway II
3
 - 
 - 
24,760 (Nate Denver)
 
 Showdown King Challenge: Nevada
5
 - 
 - 
42,930 (Ryo Watanabe)
 
 Showdown King Challenge: Tokyo
5
 - 
 - 
43,330 (Ryo Watanabe)
Collector's Edition
Booster Pack
Event
Location
Events
 
 

Leipzig

8
 - 
 - 
60,130 (Ray Krieger)
 
 

Leipzig II

8
 - 
 - 
59,780 (Gavin May)
 
 

Tokyo Expressway

8
 - 
 - 
62,750 (Nate Denver)
 
 

Tokyo Expressway II

8
 - 
 - 
63,150 (Ivan Tarkovsky)