Need for Speed (2015) is the twenty-second title in the Need for Speed series developed by Ghost Games in Gothenburg, Sweden; Guildford, England; and Bucharest, Romania[1] as well as Criterion Games, and Visceral Games using the Frostbite 3 engine.
Electronic Arts published a press release on May 21st, 2015 highlighting key features in this upcoming title including it being a full reboot for the franchise, and not as a sequel to the Underground series.
It features deep customisation, authentic urban car culture, a nocturnal open world, and an immersive plot. The overall focus is on deeper levels of car culture than any previous Need for Speed title, and is centred around the player's car.
The look, tone, and real-world level of detail of this title was shaped by EA's own car culture community - Speedhunters. The collaboration was in regards to research, authenticity, and development of the title's urban car culture with past, present, and emerging trends.[2]
Other key sources for the title's urban car culture include input from Alexi Smith of Noriyaro, Luke Huxham of Maiham Media, Justin Fox of Zen Garage, Antonio Alvendia of Motor Mavens, and Brandon Leung of Bowls LA.[3][4]
The title also had an ambitious fan feedback program, with various fans being invited to play early prototype builds of the title, and address feedback based on fan input.[5]
Customisation
Performance
Cars can be altered with performance parts through a selection of unprecedented choices for individual mechanical components.
Tuning
Each vehicle can be further altered through tuning to create unique performance capabilities and fine-tune bespoke parameters. Installing higher performance parts opens up additional tuning options.
Visual
Cars can be altered visually with various components such as bodykits, spoilers, paint, altered stances, and sound systems.
Aftermarket Brands
Aftermarket brands featured in the Need for Speed include large international companies and smaller custom body shops.
Cars
Players can purchase and sell cars as they progress through their career, although they can initially only own a maximum of five at once,[6] with an additional five car slots being made available with the release of the Hot Rods update.
All vehicles are unlocked from the beginning of the game and the player only needs to accumulate money to obtain them.
Traffic
Police
Events
Players can participate in up to eight event modes. Events are unlocked as the player increases their Rep Level.
Pursuit
Police will pursue players that are seen committing a driving offence, with the amount of available units differing across the Ventura Bay area. Players will find more police units patrolling downtown whilst others will have no police presence. Areas lacking a police presence are called "Safe Zones".
A police pursuit will end once the player has been either busted or evades engaged police units. Players can also choose to pull over, upon initiating a pursuit, and pay a fine as a means of avoiding a lengthy pursuit.
Progression
Need for Speed (2015) allows the player to build their desired car through deep visual and performance customisation. The five different methods of progression allow each player to create their own unique story, that can overlap across multiple paths, as they become the ultimate icon.
Driving Icons
Driving Icons in Need for Speed (2015) comprise of five highly talented and influential car culture personalities. Earning reputation for a certain driving style will allow the player to participate in events associated with a distinct driving icon.
Missions
Every progression path is represented by a member of the player's crew that are aiming to challenge their respective driving icons. Players are given missions that require them to complete various objectives. All driving icons require a high number of completed missions before they can be challenged.
Reputation Points

Players earn points towards their reputation as they perform driving maneuvers, stunts, feats, and destruction. Certain actions will contribute to the player's reputation with each of the driving icons as well as their overall reputation level.
Ventura Bay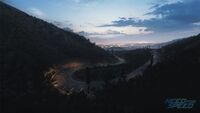 Need for Speed (2015) takes place from dusk to dawn in the fictional west coast USA city of Ventura Bay, which encompasses a downtown, a harbour, and various canyons, and is set within the state of California.
Collectables
There are a total of 123 collectable items, locations, and tasks scattered across Ventura Bay. Collecting these items counts towards the player's game completion.
Online
A persistent online connection is required in order to play[7] as it is a multiplayer only title,[8] and is committed to providing a service with free content updates to evolve the gameplay experience.
AllDrive allows players to join each other, interact with each other, and participate in races with improvements being made based on feedback from its implementation in Need for Speed: Rivals. The AllDrive system allows up to a total of 8 players to interact with each other in a single session[9], and is supported with fully dedicated servers.[10]
It was revealed in a community update on the official Need for Speed website highlighting the delay in the PC release, that free content updates will be released post-launch to ensure that Need for Speed (2015) is an evolving and changing live service.
Snapshot
Players are able to capture images using the Snapshot feature, and upload them to the Need for Speed Network. Uploaded images can be given a "like" by other players with each like rewarding the author of the uploaded image with additional reputation points and currency.
Updates
Post-launch updates are being released in intervals that include various gameplay changes, content packages, and patches. These updates will be free to continue the title through an evolving live service.
PC Release
The announcement of a delay for the PC release was issued on September 14th, 2015 on the official Need for Speed website.[11] The PC release was pushed to Spring 2016 to allow for further improvements including an unlocked framerate, increased visual fidelity, and ensure the connected nature of the game is stable.
The release date of March 15th, 2016 for North America and a March 17th, 2016 worldwide was revealed to the public on February 11th, 2016 following a PC reveal trailer. Users subscribed to Origin Access will be able to play the game early, for a limited amount of time, starting on March 10th, 2016.[12]
The trailer highlighted various improvements to the PC rendition such as 4K (3840 × 2160) resolution support, high fidelity audio, an unlocked frame rate, steering wheel peripheral support, an optional manual transmission, and the inclusion of both the Icons and Legends updates with Showcase following soon after release. The trailer also featured a radio edit of "Get Low" by Lil Jon & the East Side Boyz featuring Ying Yang Twins, which was previously part of Need for Speed: Underground's soundtrack.
Manual transmission was also highlighted to be making its way to the Xbox One and PlayStation 4 releases as part of a future free content update alongside the PC release.
System Requirements
Component
Minimum Specifications
(720p 30 fps)
Recommended Specifications
(1080p 60 fps)
OS
64-bit Windows 7 or later
64-bit Windows 7 or later
CPU
Intel Core i3-4130
or equivalent with 4 hardware threads
Intel Core i5-4690
or equivalent with 4 hardware threads
RAM
6GB
8GB
GPU
NVIDIA GeForce GTX 750 Ti 2GB
AMD Radeon HD 7850 2GB
or equivalent DX11 compatible GPU with 2GB of memory
NVIDIA GeForce GTX 970 4GB
AMD Radeon R9 290 4GB
or equivalent DX11 compatible GPU with 4GB of memory
HDD
30GB
30GB
Awards
The list of achievements for the Xbox One release and the list of trophies for the PlayStation 4 release were revealed on September 22nd, 2015 via the official Need for Speed website.
Pre-Order
The Standard and Deluxe Edition of Need for Speed (2015) became available for pre-order on June 15th, 2015[13] following the announcement of the game being released on November 2nd, 2015 in the United States, with several pre-order bonuses being made available as well.
The bonuses granted depend on the edition pre-ordered.[14]
Styling Pack (Standard and Deluxe Editions): An exclusive Styling Sticker, spoiler, rims, and splitter.
Performance Pack (Deluxe Edition Only): An exclusive Performance Sticker and early access to three upcoming Performance Upgrades: a turbocharger, engine block, and special exhaust.
Cast
Development
Pre-Production
The title's design, development and innovation in the Need for Speed series will include community input.
"
We need to help define for [fans] what the Need for Speed experience is,and they can help us define what that experience is. Then we can stay true to what that experience is.
"

— Marcus Nilsson - Executive Producer, Ghost Games

[15]
The pursuit of community integration resulted in the decision to not release a Need for Speed title in 2014, but rather expand upon the current foundation of that intended release and improve upon it for a 2015 release.
"
Ghost Games in Gothenburg is working on an innovative new chapter of this storied franchise," said Wilson. "We've planned an extended development window to ensure we're delivering a high-quality experience for Need for Speed players next year.
"

— Andrew Wilson - EA CEO

[16]
Q3 2015 Earnings Report
The Chief Executive Officer and Director of Electronic Arts, Andrew Wilson, stated on the current state of development of the 2015 Need for Speed title during an earnings call on January 27th, 2015. He also stated that the title has a targeted release of fiscal year 2016, meaning between April 1st, 2015 to March, 31st 2016.
"
Our Need for Speed franchise will return in FY '16 with a game that is already looking spectacular.
"

— Andrew Wilson - EA CEO

[17]
A financial earnings presentation released on May 5th, 2015 by Electronic Arts highlights a yet unnamed Need for Speed title with a targeted retail release in Q3 2015.[18] This places the release date of the title between October to December 2015. The title was also shown to be releasing for consoles and PC, although no specific consoles were stated.


On May 16th, 2015, a video highlighting various promotional images from previous
Need for Speed
titles was shared on the official
Need for Speed
Facebook page. The video features various snippets of binary code, that put together create "01001101 01100001 01111001 00110010 00110001", and translates to May 21.
[19]
An image was uploaded to the official Need for Speed Facebook page on May 18th, 2015 that stated "May 21. Subscribe to see the first look at the return of NFS", as well as a url to their official Youtube page. Altering the image shows a modified Toyota 86, a modified Porsche 911 Turbo (930) 3.3, and an Ford Crown Victoria Police Interceptor in pursuit behind them.[20]
A teaser trailer was released on May 21st, 2015 highlighting a series of customised vehicles racing through the streets of a Los Angeles inspired city, whilst being pursued by various police vehicles, and ends as iSHi's "Push It featuring Pusha T" begins playing. The teaser trailer ends highlighting June 15th, 2015 as the release date for the full trailer, which is the same day as EA's E3 press conference.
Beta
A sign up process went live on September 12th, 2015 on the official Need for Speed website that was open for users to register until September 25th, 2015.[21] Those with an EA account could sign up for a chance to participate in the closed beta session that ran from October 2nd, 2015[22] to October 5th, 2015 on both Xbox One and PlayStation 4.
Trailers
Interviews / Development
Trivia
Need for Speed (2015) was developed under the codename "Genesis".
References