Donut Spots
in
Need for Speed (2015)
are
collectable
locations dotted around
Ventura Bay
. There is a total of 30 Donut Spots breaking down into five locations within each district.
Donut Spots are highlighted by an icon representing three arrows following each other around a circle. This icon will appear on the player's minimap and above a Donut Spot's location.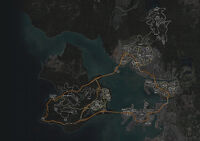 Driving near a Donut Spot will trigger four flares highlighting the area the player must perform a donut within to collect the spot.
Completed Donut Spots will appear with a green tick icon next to their collectable icon above their location, and will be shown on the player's phone map.
Donut Spots
Title
Location
Angel Whip
El Rey Pier, El Rey
Apple Crumble
Granite Spring, Crescent Mountains
Butter Fiesta
Lone Palm Village, Royal Park
Café au Creme
Weid Canyon Dam, Crescent Mountains
Chestnut Heaven
Navy Pier, South Port
Choc n' Chip
Sinner's Peak Observatory, El Rey
Chocolate Orange
Weid Canyon, Crescent Mountains
Cinnamoney
Ventura Bay Art Centre, South Port
Crank-a-Nutta
Interstate 5, El Rey
Deep Almond
Arcadia, Royal Park
Drizzled Dough
Harbor View, Franklin Terrace
Evil Caramel
Weid Canyon, Crescent Mountains
Frosted Devil
San Pedro Transfer, South Port
Fudge Dream
Shoreline Front, Burnwood
Giant Sin
Sinner's Peak, El Rey
Honeylicious
VB Petrochemical Plant, South Port
Koko Ganache
Cross Roads, Burnwood
Lemon Refresher
Shoreline Front, Burnwood
Locococo
Millennium Plaza, Royal Park
Maple Bacon
Ekeya, Burnwood
Marshmallow Pop
Apollo Heights, Franklin Terrace
Nasty Glazed
Manches Crest, South Port
Nutty Choco Fudge
Granite Spring Monument, Crescent Mountains
Pecan Punch
Harbor View Mall, Franklin Terrace
Purple Glaze
Lone Palm Village, Royal Park
Rockhard Melts
BBA Industries, Franklin Terrace
Sprinkle Frost
Beckenholl, Burnwood
Sugar Booger
El Rey Monument, El Rey
Vanilla Monster
Apollo Heights, Franklin Terrace
Very Berry
Lone Palm Village Mall, Royal Park
Community content is available under
CC-BY-SA
unless otherwise noted.