Vista Spots
in
Need for Speed (2015)
are
collectable
locations dotted around
Ventura Bay
. There is a total of 30 Vista Spots breaking down into five locations within each district.
Vista Spots are highlighted by an icon representing a single-lens reflex camera. This icon will appear on the player's minimap and above a Vista Spot's location.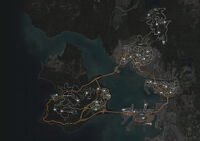 Driving near a Vista Spot will trigger a prompt to capture an image of the location. Pressing the button highlighted by the prompt will capture a
snapshot
of the location and may include the player's car in the image.
Captured Vista Spots will appear with a green tick icon next to their collectable icon above their location, and will be shown on the player's phone map.
Vista Spots
Title
Location
Apollo Heights
Apollo Heights, Franklin Terrace
Arcadia Park
Arcadia Park, Royal Park
BBA Industries
BBA Industries, Franklin Terrace
Beckenholl View
Ekeya, Burnwood
Bishop Rock Hills
Sinner's Peak, El Rey
Castle Hill Water Treatment Plant
Castle Hill, El Rey
Crescent Mountain View
Crescent Mountains Bridge, Crescent Mountains
Cross Roads View
Interstate 5 Intersection, Burnwood
East Esplanade Old Industrial
East Esplanade Old Industrial, Royal Park
El Rey Pier
El Rey Pier, El Rey
Franklin Terrace View
Interstate 6 Intersection, Franklin Terrace
Ghost Stadium
Millennium Plaza, Royal Park
Granite Springs Monument
Granite Spring Monument, Crescent Mountains
Granite Springs View
Weid Canyon, Crescent Mountains
Harbor View Mall
Harbor View Mall, Franklin Terrace
Lone Palm Village Crossings
Lone Palm Village, Royal Park
Millennium Bridge
Millennium Plaza, Royal Park
Morphus
Morphus, Franklin Terrace
Navy Pier
1235 Pier G, South Port
San Pedro Docks
San Pedro Transfer, South Port
Shoreline Front Bay
Cross Roads, Burnwood
Sinner's Peak Observatory
Sinner's Peak Observatory, El Rey
South Port Bridge
Manches Crest, South Port
VB Petrochemical Plant
VB Petrochemical Plant, South Port
Ventura Bay Art Centre
Ventura Bay Art Centre, South Port
Ventura Bay Ocean View
Sinner's Peak, El Rey
Ventura Bay Skyline
Los Sol Bridge, Burnwood
Ventura Downtown
Beckenroll, Burnwood
Weid Canyon Dam
Weid Canyon Dam, Crescent Mountains
Weid Canyon River
Weid Canyon, Crescent Mountains
Community content is available under
CC-BY-SA
unless otherwise noted.