Fire Emblem Warriors: Three Hopes - The Loop
Play Sound

For other games in the Hot Pursuit subseries, see - Need for Speed: Hot Pursuit
Need for Speed III: Hot Pursuit is the third title in the Need for Speed series. In Japan, it is called Over Drivin' III: Hot Pursuit, and in France, Need for Speed III: Poursuite Infernale.
The game was released for PC and PlayStation in March 25th, 1998, with each consisting of slightly different content. Need for Speed: Hot Pursuit 2 was released in 2002 as a sequel with another released in 2010 by Criterion Games as Need for Speed: Hot Pursuit (2010).
Gameplay
Race Modes
There are three race modes players can select, although Knockout and Tournament mode are only playable as race series that take place in every race course of the title. Additionally, they can only have their difficulty altered. Players earn higher rewards for completing and winning events on higher difficulties on these modes.
Knockout - A series of two-lap races in all of the nine courses in which racers finishing in last will be eliminated. Winning the "Beginner" knockout series unlocks the Empire City course, and winning the "Expert" knockout series unlocks a bonus car.
Single Race - Each race track is fully customisable allowing players to change daylight settings, traffic amount, the numbers of opponents (1 to 7), difficulty (beginner or expert), weather and have the option to drive in a mirrored version of the circuit.

Practice Mode - Players can use a selection of driving assists to practice driving each car and learn the optimal driving line of each course.

Tournament - A series of four-lap races involving the eight regular courses in which each participant earns points based on their finishing position at the end of the race. The racer with the most points by the end of the last race wins the tournament. Winning the "Beginner" tournament series unlocks the Jaguar XJR-15 race car, and winning the "Expert" tournament series unlocks the Mercedes-Benz CLK-GTR.
Hot Pursuit
A competition between two racers featuring police force, which uses tactics such as ramming the racers, Roadblocks and Spike Strips. Similar to Knockout and Tournament mode, players will receive rewards upon completing a Hot Pursuit race on every race course as a racer and cop.
Any racer including AI drivers will receive a warning if they are caught by the police. Earning too many warnings will cause the racer to be arrested and allow their opponent to win the event.
The PC port of Need for Speed III: Hot Pursuit is the first game in the series to let players drive police cars and chase racers. Players taking on the role of a cop have the primary task of busting every racer, and AI drivers are only allowed to earn a single warning by the police before being busted. Winning Hot Pursuit events unlocks additional pursuit vehicles.
Cars
Need for Speed III: Hot Pursuit includes a selection of various European sports cars, alongside American models. The PC port introduces playable pursuit vehicles, regional exclusive Australian sports cars, as well as being the first game in the series to offer additional vehicles as downloadable content.
Each vehicle has Car Showcase in which players can view real-life information, pictures, and a 360° interior view of the real life model. It is also possible to fine-tune a vehicle's performance, as well as compare every car via in-game performance regardless of class. Players can choose their vehicle's colour from a set of factory options, with the PC release also having the option to select a custom colour.
Courses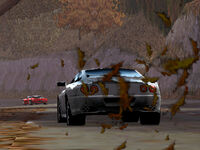 Nine courses are available, based on five locations reminiscing of North American themes. Each one of the four beginner courses is related to one of the four expert courses, sharing location and theme although having differences such as season of the year. The bonus course becomes available upon beating the Knockout mode.
Hometown (Beginner)/Country Woods (Expert)
Redrock Ridge (Beginner)/Lost Canyons (Expert)
Atlantica (Beginner)/Aquatica (Expert)
Rocky Pass (Beginner)/The Summit (Expert)
Empire City (Bonus)
All courses can have its parameters altered:
Time of day
Weather
Direction
Mirrored
The PlayStation release features additional hidden courses, although these are not available in Hot Pursuit mode.
Soundtrack
Need for Speed III: Hot Pursuit has composed themes for the menus, as well as two unique themes for each of the five locations - a rock track and a techno track.
Interactive Music
In each race course an interactive soundtrack will be played, which is directly adapted to the player's gaming situation.
Special Releases
Need for Speed: Web Racing
Need for Speed: Web Racing, an online-only conversion of Need for Speed III: Hot Pursuit developed for web browsers, was made available through EA.com's Platinum service in 2001.[1] [2]
Downloadable Content
The PC release received multiple downloadable add-on cars made available post-launch on the game's website.
Cheats
Need for Speed III: Hot Pursuit primarily features car-unlocking cheats, although there are also several gameplay-altering variants.
Title Differences
The PlayStation release of Hot Pursuit has a few differences in both gameplay and graphics in comparison with the PC release.
Trivia
Ferrari and Mercedes-Benz vehicles are not available in Hot Pursuit mode. However, the Mercedes-Benz CLK GTR is available in Hot Pursuit mode for the PlayStation release.
The race courses Rusty Springs and Autumn Valley Speedway, both from The Need for Speed, are mentioned in signs on the track Redrock Ridge/Lost Canyons and Hometown, respectively.
All original nine race courses of the title reappear in the PC release of Need for Speed: High Stakes.
Media
Trailers
Pre-Release
Box Art
References