Olympic City is a fictional location in which Need for Speed: Underground takes place, and is made up of many different districts; Downtown, Market District, Chinatown, Port Royal and an airport.
Districts
Downtown/Inner City
Downtown and Inner City is the area the player starts out in. It is located in the central and northern part of the city and is where many of the races happen during the game.
It features many tall buildings, busy streets and wide boulevards. It also has a neon district, and some industrial and construction areas in the west. In the western side, there are some roads that are used during drag races, but not in other races.
Market District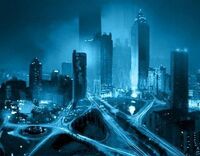 The Market District is seen a lot throughout the game, and is located mostly in the south and southwest part of the city. The Market District consists of shops and a few housing complexes.
This is also a commonly seen area in Underground Mode along with Chinatown. The eastern part features only one two-lane road through a park.
There is an long unpaved alley way that leads to an unconnected bridge.
Chinatown
Chinatown is located next to the Market District with very similar features. It includes shops as well as other buildings, a construction site and other housing complexes. Chinatown is the smallest district in Olympic City. It has one main road which connects north to a draw bridge over a lake and eventually to the Inner City area.
There is also a second housing district located near Chinatown. It is a small neighbourhood with a few houses. There is also a large freeway in the west running near the spillway and past the city stadium, which runs to this area. There is also Highway 1, which is not shown on the main map, and is only accessible during one drag race.
Port Royal/Atlantica
Port Royal and Atlantica are located in the western parts of Olympic City, with Port Royal being mainly made up of industrial areas. It is mostly located across the spillway, and it features many heavy industrial factory complexes.
It also has the city prison, a subway line, the Bedard Bridge, John Newton Tunnel and the Port. Atlantica is the area near the coast east of the spillway, which mostly features hotels and other buildings.
Airport
The airport is located amongst a large construction area near the Market District. It is the second smallest region of all and consists of a large amount of construction work including a few roads leading to the airport.
There is a small park south of the airport with a skate park. There is also a large highway that is under construction, but is not accessible.
Courses
Trivia
In Need for Speed: Heat, there are Easter eggs in Palm City referencing Olympic City;

A road sign stating "Olympic City 98 miles", which can be found in Downtown Palm City.
A road sign stating "Site of Port Royal", which can be found in Port Murphy.