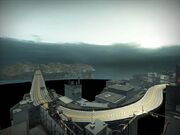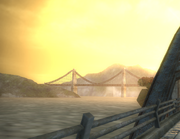 The Rockport Turnpike is a drivable highway in Need for Speed: World and a large aesthetical structure in Need for Speed: Most Wanted.
In Need for Speed: Most Wanted there are no connecting roads to the Turnpike. In Need for Speed World the highway starts off from a T-junction found near the stadium along Highway 201.
The Highway runs through an industrial area in the south of Downtown Rockport with a long straight cable stayed bridge  which crosses a large water basin to a tollbooth located on another plain of land.
The tollbooth has a barrier positioned across on side in order to block access to the rest of the highway. Beyond the barrier lies an incomplete section of highway with no collision meshes but does contain a few static mesh, terrain and lighting assets.
The highway was previously blocked by another barrier closer to the T-junction before the bridge, although this was removed in Patch 5.03.
See Also
Community content is available under
CC-BY-SA
unless otherwise noted.