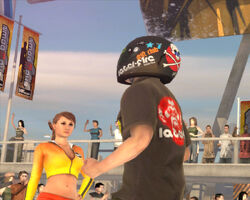 Ryan Cooper is the fictional character and protagonist of Need for Speed: ProStreet, where he competes with other racers in order to become the ultimate racing king.
Relatively little is known about Ryan, except that he was a former street racer who enters a challenge day in a legally sanctioned race and wins it with a Nissan 240SX. Ryan is then mocked by Ryo Watanabe, the "Showdown King". He is never seen without a helmet and his voice is never heard.
Trivia
Ryan Cooper is one of the first protagonists of the Need for Speed series to have a known name followed by Jack Rourke in Need for Speed: The Run, whereas the other protagonists' names are unknown.
In Need for Speed: Undercover, in case the player sits idle for some time, police officers start to broadcast over the radio that one officer has arrested a man who is unwilling to cooperate saying that his surname is Cooper and his first name being Ryan.
In Need for Speed: Payback, Ryan is referenced by Mac as the only person to have defeated Aki Kimura.
Gallery