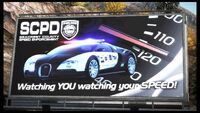 Seacrest County Police Department
(
SCPD
) is the Police Department featured in
Need for Speed: Hot Pursuit (2010)
.
They own and enforce the roads of Seacrest County in a wide variety of vehicles. They will do whatever it takes to stop racers breaking the law in Seacrest County and bring them to justice.
Seacrest County also has a Sheriff's Department but it is unknown if it's part of the SCPD as most counties do not have both a Sheriff and Police Department. The Sheriff's Department does however have a different colour scheme with their vehicles having a blue/green and white paint scheme compared to the SCPD's black and white paint scheme.
Only two SCPD buildings can be found in Seacrest County including a police lodge on Cascade Terrace and another lodge near the Fairview Road-Eagle Crest Road intersection. There could be a headquarters building with an underground carpark but the location of this building is unknown.
Vehicles
For the police car list, see here.
Equipment
The SCPD utilises a series of equipment types provided by HCM Corporation to aid them in stopping racers.
Ranks

There are 20 ranks of the Seacrest County Police Department. Each player begins at Rank 1: Cadet.
| Rank | Title | Bounty |
| --- | --- | --- |
| 1 | Cadet | 0 |
| 2 | Cadet II | 20,000 |
| 3 | Officer | 60,000 |
| 4 | Officer II | 128,000 |
| 5 | Patrolman | 195,000 |
| 6 | Patrolman II | 275,000 |
| 7 | Patrolman III | 360,000 |
| 8 | Trooper | 450,000 |
| 9 | Trooper II | 545,000 |
| 10 | Trooper III | 645,000 |
| 11 | Sergeant | 755,000 |
| 12 | Sergeant II | 875,000 |
| 13 | Sergeant III | 1,000,000 |
| 14 | Lieutenant | 1,130,000 |
| 15 | Lieutenant II | 1,265,000 |
| 16 | Lieutenant III | 1,405,000 |
| 17 | Undercover | 1,550,000 |
| 18 | Captain | 1,700,000 |
| 19 | Pursuit Agent | 1,850,000 |
| 20 | Ultimate Enforcer | 2,000,000 |