Fire Emblem Warriors: Three Hopes - The Loop
Play Sound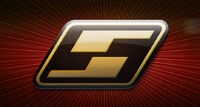 SpeedBoost (also known as Boost) is a premium secondary currency in Need for Speed: World, and is an alternative in-game currency that can only be purchased.
SpeedBoost (

) is used for vehicle purchases, visual customization components, vehicle rentals, amplifiers, additional car slots, and power-ups.
SpeedBoost can be purchased with Boku Mobile, Debit Card, SMS, Credit Card, Moneybookers, PayPal, Paysafecard, Transfer and Wallie-card. Different countries have different payment methods available.
SpeedBoost Exclusive Content
Amplifiers
Amplifiers allow players to earn 100% more in-game cash rewards or rep. Both amplifiers last 10 days and cost 500 SpeedBoost each. Newly purchased web deal vehicles include both amplifiers for a one week period.
Card Packs
Card Packs contain power-ups, cash and performance parts which can be usually won in races. Silver packs guarantee three parts, Gold packs guarantee at least one Pro part out of three regular parts, and Platinum packs guarantee at least one Ultra part out of three regular parts.
The only card packs that are also purchasable with in-game cash are the Mystery Packs. The Mystery Skill Pack costs $60,000, and the Mystery Performance Pack costs $100,000. They may or may not include performance parts or skill mods.
The price of the Mystery Pack is 150, a Silver Pack's 1,200, Gold Pack's 700, and a Platinum Pack's 1,500 SpeedBoost. There are also different Skill Mod and Aftermarket card packs available.
Insurance
With insurance it is possible to recover any damage done to a vehicle for 7 days.