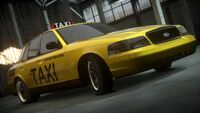 The Taxi is a traffic car seen in multiple Need for Speed installments.
Differences
Trivia
The Taxi in Need for Speed: Most Wanted can be driven by the player in a tollbooth race in Challenge Series event #47.
A driveable variant of the taxi cab in Need for Speed: The Run can be unlocked as a rare bonus wheel reward. It is known in the game as "Super Taxi" Signature Edition. The Dodge Charger SRT-8 is also a "Super Taxi" variant and is also unlockable through the bonus wheel.
A white unused taxi variant of the Dodge Charger SRT-8 can be found in the files of Need for Speed: The Run.
In Need for Speed: World, the side of every taxi says "NFS TAXI SERVICE".
The Taxi in Most Wanted (2012) has a writing that says "Who You Gonna Call?" below the large "TAXI" writing on the roof sign, side and bonnet. This is a reference to the famous Ghostbusters catchphrase.
Gallery